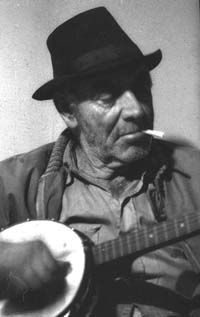 What am I calling old-time music? When I use the term, I mean the traditional folk music of the Southern Appalachians. This music was based on fiddle music of the British Isles mixed with the influences of black musicians, both slave and free. The fiddle came over from Europe with the immigrants, the banjo came from Africa in primitive form and was refined and developed in the US cities starting before the Civil War. The Civil War spread the banjo and the minstrel tunes popular in that time into the remote Appalachian mountains, where they were adopted. The guitar came somewhat later, around the turn of the century.
Prior to radios and recordings, people made their own music. A good fiddler was highly respected and prized in the community. Old-time music was dance music; it was also parlor music, as well as ballads, accompanied or unaccompanied. It was not concert music. Each region, even each county, had unique styles. Until the advent of recordings and radio, the tunes and songs were passed by oral tradition.
With the advent of radio, records, and the music industry, the diversity began to decline and fewer and fewer people learned to play this music. The music was preserved only in pockets and by a few individuals and families such as the Hammons family of Pocohontas County, West Virginia. The last generation of people who knew this music well was born around the turn of the century or slightly before. The next generation often considered this music "ignorant" and preferred commercial music such as that turned out by Nashville. With the birth of the "folk revival" around 1960, many young people, mostly from the cities, but also many from the Appalachian region, came to realize the value of this traditional music, and sought out the old people to learn their songs and tunes, which many of the old people (for example, Tommy Jarrell, Clyde Davenport, and the Hammonses) were happy to impart. [Photo of Sherman Hammons (left) courtesy Dwight Diller.]
Today, the old-time community is not large, but it is vital. It is not a community of fans as much as participants. This is not to say that musicians of exceptional skill are not admired, but almost everyone in the community plays some kind of instrument at some level of skill. Most of them are surprisingly dedicated and adept at their music. The major community activities are jam sessions at the local level, and local, regional, and national festivals and teaching workshops.
Select Old-Time Music Festivals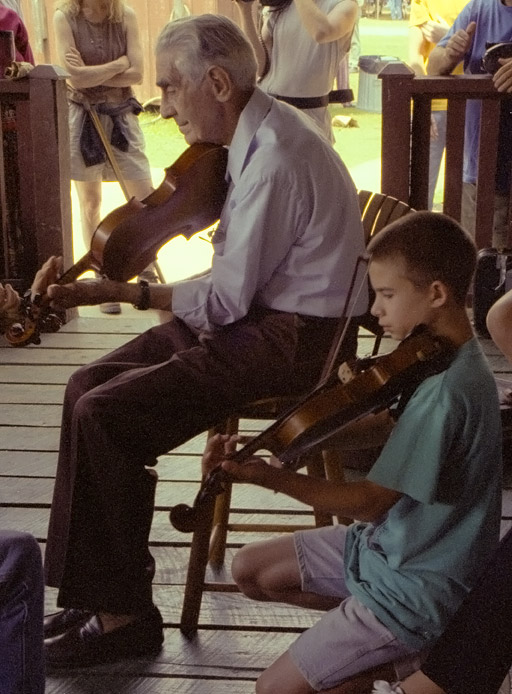 Passing It On: Melvin Wine & Jake Krack, Clifftop 1996.
Photo by Charlee Banks
Select Old-Time Music Workshops
Old-Time Music Websites of Interest
Notable Musicians' Web Pages
If I have left some out, it is probably because they had neither a website nor a page devoted to them on Wikipedia or other sites, but certainly not because I don't consider them notable. If I missed someone, let me know.
Leroy Troy: Tennessee banjo player known for his Uncle Dave Macon imitations.

Lester McCumbers: b. 1921. West Virginia fiddler and fiddle maker.

Lily May Ledford: (1917-1985). Kentucky banjo player "banjo pickin girl."

Lonesome Sisters: singing duo of Sarah Hawker (Ginny's niece) and Debra Clifford.

Lynn "Chirps" Smith: midwestern fiddler.

Mac Benford: excellent banjo player, member of Highwoods and Fat City string bands.

Mac Trayham: banjo player and banjo maker. Plays with wife Jenny.

Marcus Martin: (1881-1974). North Carolina fiddler of great influence.

Mark Campbell: Virginia fiddler and folklorist.

Marvin Gaster: North Carolina two-finger banjo picker and good singer.

Mary Z. Cox: Florida banjo player with many recordings.

Matokie Slaughter: (1919-1999). Virginia banjo player who both uppicked and downpicked.

Matt Brown: young Pennsylvania fiddler.

McGee Brothers: Sam and Kirk, early old time music singing duo.

Melvin Wine: (1909-2003). Unique West Virginia fiddler and humble, wonderful man.

Mike Seeger: (1933-2009). Folklorist, banjo, fiddle, autoharp, etc. Probably the most influential person in the old-time revival.

Monks: A fine Indiana twin fiddles band.

New Ballards Branch Bogtrotters: Virginia band which has had various incarnations, all good.

New Lost City Ramblers: began in 1958. Probably the most influential revival string band.

Norman Blake: one of the best old-time guitarists living. Plays with wife Nancy.

Ola Belle Reed: (1916-2002) singer and banjo player.

Paul Brown: fine folklorist, banjo and fiddle player. Also heard doing the news on NPR.

Pete Seeger: almost single-handedly started the folk revival and brought the 5-string banjo from obscurity.

Pilot Mountain Bobcats: North Carolina string band.

Rafe Stefanini: excellent banjo player and fiddler who came to the USA from Italy.

Ralph Blizard: (1918-2004). Tennessee long-bow fiddler.

Ray Alden (1942-2009). Recorded many old-time artists, played the banjo, and died too young. A generous man.

Rayna Gellert: young fiddler and daughter of well known fiddler and banjo player Dan Gellert.

Red Clay Ramblers: one of the earliest revival bands, started in 1972.

Reed Island Ramblers: great string band doing West Virginia music.

Reed Martin: wonderful banjo player and collector of music and stories from divers sources.

Rhythm Rats: Very good Ohio string band.

Richie Stearns: Well-known banjo player.

Riley Baugus: North Carolina banjo player.

Riley Puckett: (1894-1946) blind Georgia guitar player.

Roscoe Holcomb: (1912-1981). Banjo and guitar player, inspired the term "high, lonesome sound."

Skillet Lickers: Gid Tanner and Riley Puckett created this band in 1924.

Southern Schoolhouse Rascals: another good string band.

Stairwell Sisters: San Francisco "girl" band.

Stephen Wade: his Banjo Dancing one man stage show introduced many to the 5-string banjo.

Stewed Mulligan: funky West Virginia string band.

Stillhouse Rounders: New York old-time string band.

The Tallboys: Seattle string band.

Tom King: d. 1993. West Virginia guitar player and friend.

Tom, Brad, and Alice: string band with Tom Sauber, Brad Leftwich, and Alice Gerrard.

Tommy Jarrell: (1901-1985). Extremely influential NC fiddler who generously spent time with young learners.

Troublesome Creek: terribly impressive Virginia string band.

Uncle Charlie Osborne: (1890-1992). Virginia fiddler.

Uncle Dave Macon: (1870-1952). Banjo player and comedian on Grand Ole Opry. Very influential body of work.

Uncle Earl: another good old-time "girl" band.

Wade Mainer: b. 1907. Three finger banjo picker and brother to J. E. Mainer, another old-time legend.

Wade Ward: (1892-1971). One of the most famous banjo players, also fiddled. Played with brother Fields.

Walt Koken: banjo player and fiddler. Played with Highwoods and Fat City string bands.

Wayne Erbsen: North Carolina banjo player and teacher.

Will Keys: (1923-2005) banjo player with a strange but beautiful 2 finger style.

Wilson Douglas: (1922-1999). Squeeky but wonderful West Virginia fiddler. Another one we'll miss.

Wolfe Brothers: Superb singing Virginia string band.